Decluttering Tips and Tricks
Here are some helpful Cleaning Tips to downsize your closets! Always remember your textiles can be recycled, and Green City Recycler is here to help! Look for our green pods in your community.  If you need help locating one of our convenient pods or have a large amount of textiles to recycle, contact us and we will be happy to help!!
Questions to Ask Yourself When
CLEANING OUT CLOSETS
Has this been worn in the last 12 months

Will this ever be worn again?

Is the item damaged beyond reasonable repair?

Does this reflect my style or the style of my significant other/child(ren)?

Would I buy this item again?

Does this item make me or significant other/child(ren) feel confident?
Ways you can help fight textile waste for FREE
Fashion is one of the most polluting industries in the world. Some prefer to donate unwanted clothing, but an estimated 85% of all textiles end up in the landfill. Green City Recycler's mission is to prevent millions of pounds of textiles and recyclable items from ending up in the landfill.
Class project leads to staff-sponsored initiative for a greener May move-out
Historically, move-out season at Rice has made for a crowded Inner Loop full of cars being packed with the contents of dorm rooms, and even fuller residential college garbage cans loaded with items students have decided to part ways with.
This year, those trash bins weren't nearly as full.
Thanks to an initiative two semesters in the making that saw environmentally conscious students partner with campus sustainability leaders and community partners, undergraduates at all of Rice's 11 residential colleges were able to place unwanted clothing, shoes, linens and other textile-based items in large bins provided to each college by Green City Recycler, a Houston-based recycling company that works to reduce the staggering amount of textile waste that finds its way into landfills each year.
The seeds were planted in last fall's Environmental Issues: Rice Into the Future course taught by Richard Johnson, the university's executive director for sustainability and professor in the practice of environmental studies in sociology. A group of undergraduates in Johnson's course — Adrienne Bradley, Viviana Contreras, Yea Won Lee, Ellie Schweiker and Destinie Sharp — came up with the idea to make recycling during move-out hassle-free for students as part of a semesterlong group project.
The students worked with Director of Grounds Darrell Bunch from Facilities Engineering and Planning as well as Interim Associate Vice President of Housing and Dining David McDonald throughout the fall. They also enlisted the help of Kristianna Bowles, then an employee of Texas A&M University who'd worked on similar projects at its College Station campus.
Bowles ultimately joined Rice in December 2022 as the sustainability program coordinator in Rice's Administrative Center for Sustainability and Energy Management (ACSEM). This past semester, Sharp and Bradley joined Bowles' team as paid student interns; together, the three along with the campus sustainability team established the partnership with Green City Recycler to make the initiative a reality.
"What you see is a result of staff and students working closely together, with the curriculum serving as a launching point and catalyst of making our campus more sustainable," said Johnson. "I could not be more proud of what our students and staff have accomplished together!"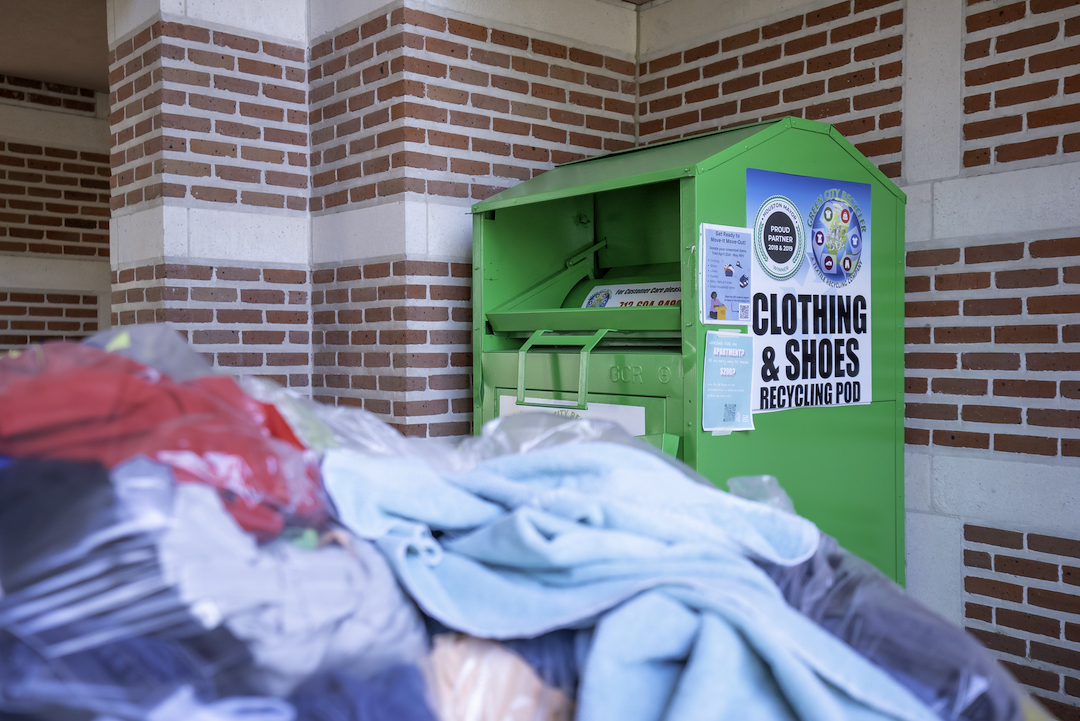 Ultimately, Rice students have donated a whopping 4,943 pounds of recyclable goods during this year's move-out, according to data provided by Green City Recycler. But that impressive statistic only tells part of the story — for one, it doesn't include any last-minute, left-behind dorm room items Green City Recycler will be picking up on its final sweep of campus this week. Nor does it include items donated through a partnership McDonald's team has established with Rice's Office of Student Success Initiatives (SSI) to make available left-behind mini fridges in proper working order to first-year, low-income students, or donations of unopened, unexpired and nonperishable food items to SSI's student food pantry.
"ACSEM is excited to provide this program that not only helps students move out easily, but also advances Rice's sustainability efforts," said Bowles. "I have been blown away by the response to this new initiative, especially as I reflect on my time at A&M managing our 'Donate, Don't Dump' campaign. Seeing how receptive campus has been has me excited for what the future holds."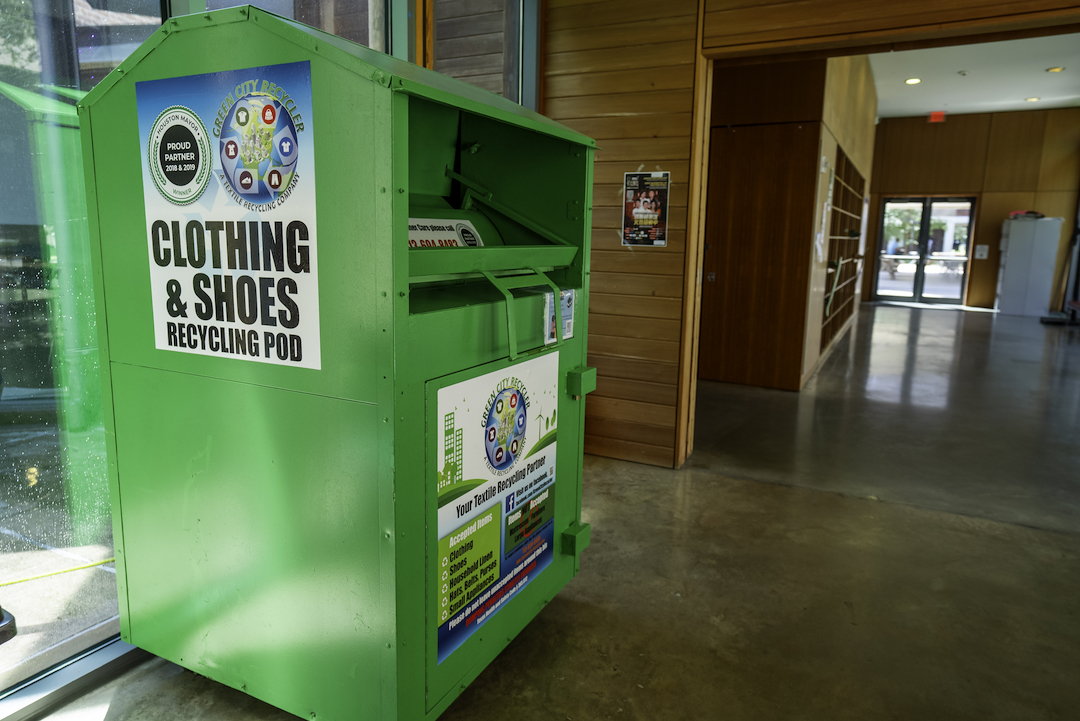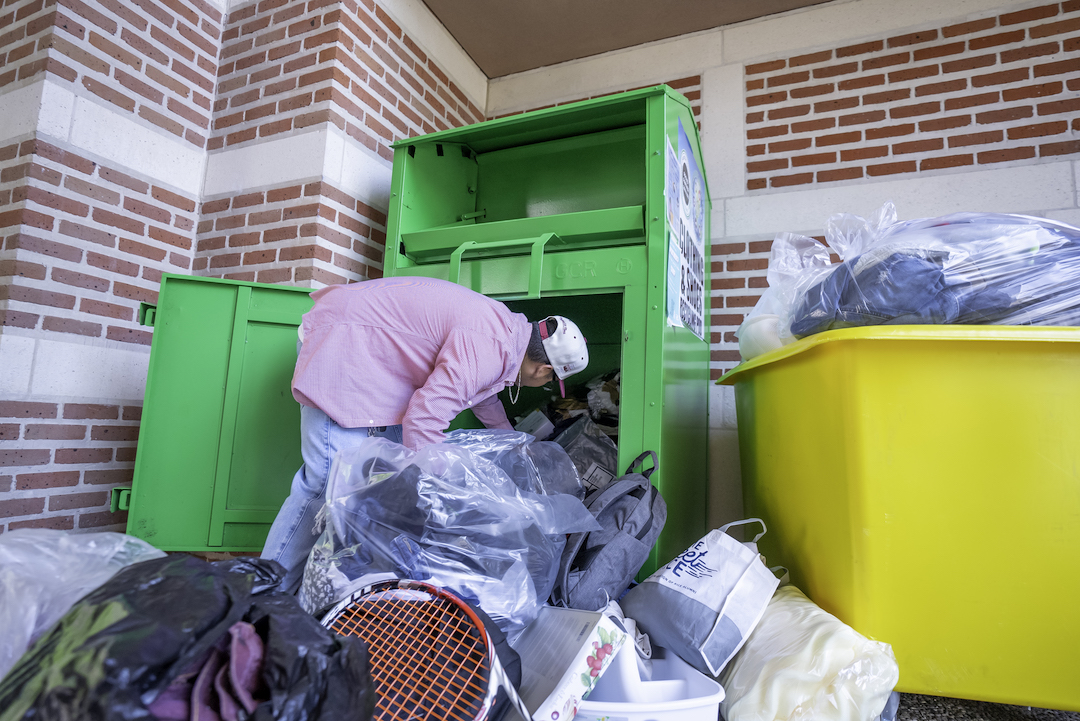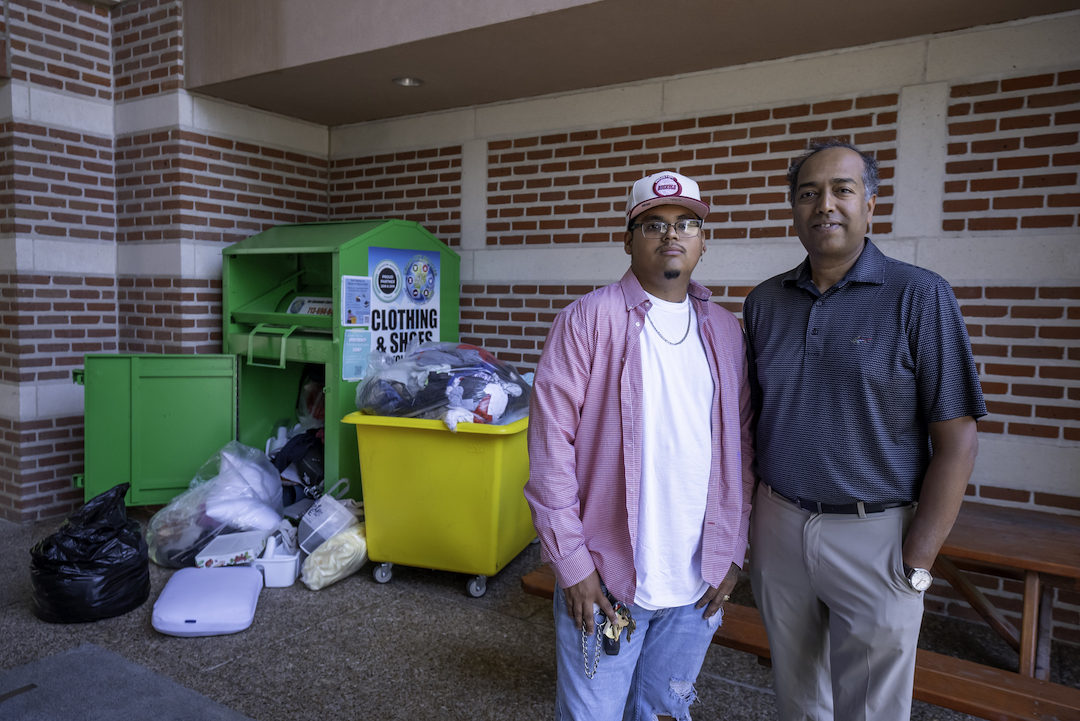 Join the Movement to reach 100% Textile Recycling in Your Community!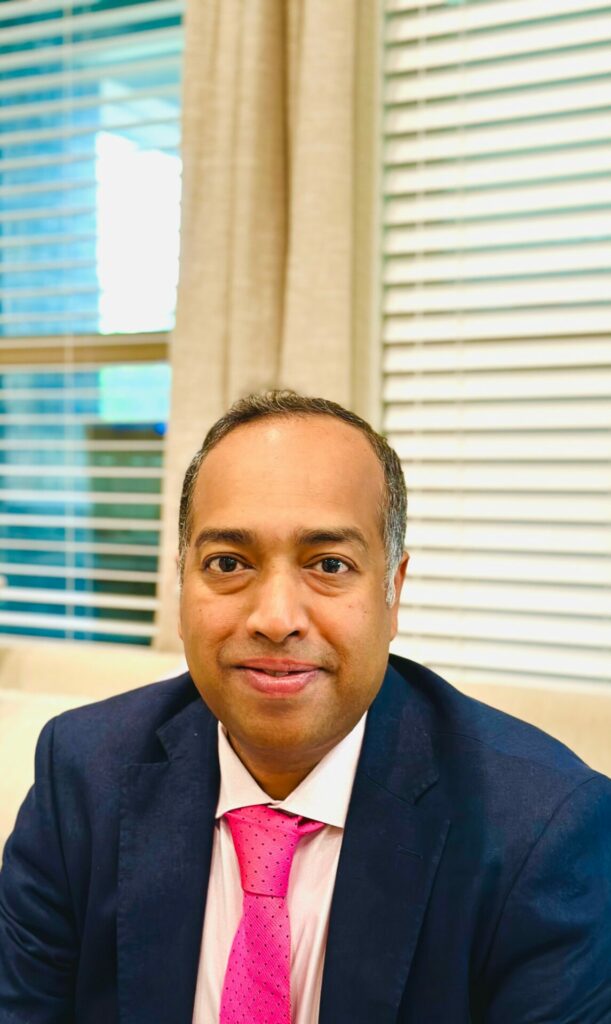 Meet Sam Ebenezer
We caught up with the brilliant and insightful Sam Ebenezer a few weeks ago and have shared our conversation below.
Sam, thank you so much for joining us and offering your lessons and wisdom for our readers. One of the things we most admire about you is your generosity and so we'd love if you could talk to us about where you think your generosity comes from.
JOHN 15:12-13 "My command is this: Love each other as I have loved you. Greater love has no one than this: to lay down one's life for one's friends." My Mom and Dad, thought me this from a very young age, My dad worked for the YMCA, from a very young age he influenced me, he showed me how to love the people in our community. In 2004 the Tsunami in South East Asia was my first experience to show love and generosity to our community. I was in high school and accepted the challenge, my Dad and i stepped out efforts to clean and build damaged homes. Then i moved to Washington D.C in 2005 and started to work for an international non-profit, my projects were in Malawi, working in Malawi with abandoned Kids with HIV opened my eyes to helping folks in need. Life experiences has thought me to be as generous as possible.
Thanks for sharing that. So, before we get any further into our conversation, can you tell our readers a bit about yourself and what you're working on?
I am a strong advocate for building a strong band, There are several companies in the Textile recycling industry doing similar work as Green City Recycler. But you don't know them by the name; they are always hiding under the radar. I wanted to change that, I wanted people to know Green City, we wanted to be loud and change the way our industry operates. We focused our time and energy on building a brand. In 2015 we did a small exercise; we spoke to several folks who stopped by our clothing recycling bin and we asked them what made them use our bin to recycle vs the dozen other competitors. Most said they just wanted to get rid of their clothes and they didn't care about the brand or company, they wanted to use the most convenient bin for them, most of our users did not do any research to see if the bins belonged to a charity or a for-profit company. So we made sure we wanted to be the loudest in the city, we wanted to get upfront with people, and we created solid social media marketing to have a strong digital presence.
Our Brand was created to be on people's feeds frequently; we spent time and effort to educate folks on textile recycling and its pros and cons. We changed our brand by becoming very transparent and informative. We educated our clients on how the clothing recycling process works, when our competitors have zero social media presence we are super active and this has been our strength. We also targeted large malls, we partnered with SIMON MALLS (Barton Square Mall), Simon Mall., is the largest shopping mall operator in the USA. If we are going to address fast fashion, what better place to start than a big shopping mall? We have our clothing recycling stations present at the Mall entrance, our pods create brand awareness to folks walking in to buy new clothing, and our pods are a message to the shoppers, when they are done with their clothing, they can recycle it using our pods. Being active online and having built a strong brand, makes us stand out from the crowd. It has also helped us win awards (Houston Mayor's Proud Partner Award – Presented by Keep Houston Beautiful). We have also seen a high frequency of customers calling in to request a home pick-up in the past year. Our curbside pick-up service has been a hit since 2020, we have done over 45,000 home pick-ups, with several cities in Texas using our curbside services since 2021.
If you had to pick three qualities that are most important to develop, which three would you say matter most?
Travelling is a hobby of mine, i preach that travel and explore the world, one can learn many things a text book cannot teach you. Experiencing different cultures, languages and art from different corners of the world will broaden your thinking and give you ideas that can use in your everyday life that you wont learn being in your bubble.
How can folks who want to work with you connect?
At Green City we are always looking for ways to give back to our community, we would love for your organization to host a textile recycling pod or host a clothing drive. We provide a kick back to support a local non-profit of choice. Our partners are corporations/schools/religious organizations. Some of our corporates partners host a clothing drive and support Texas non-profits like Texas Children's Hospital, Refugee Services of Texas. So if you are a non-profit looking to add a eco-friendly clothing drive and raising funds reach out to us.